ADORA HANDMADE CHOCOLATES MISSION STATEMENT
Adora Handmade Chocolates is a passion and dedication to creating exceptional handmade chocolates, confectionery, cakes and gelato. With vibrant, innovative and fresh ingredients let our chocolate transport you from the everyday to a special place of indulgent adventure and joy.
ABOUT ADORA HANDMADE CHOCOLATES
It's the abundant display of chocolate, truffles, cakes and confectionary mixed with a sprinkling of warmth and generosity that keep people coming back to Adora Handmade Chocolates.
Since 1993, sisters Tina Angelidis & Katerina Stavropoulos have been focused on making exceptional handmade chocolates and are dedicated to building communities of people that are connected to their business and stores.
Visiting an Adora outlet is a truly unique experience.
It is a place where you feel welcomed and comfortable. You can meet friends or colleagues, order a coffee, and choose from over 40 handmade chocolates to indulge in whilst you sit and chat.
And every coffee comes with a chocolate. What's not to love! Adora's chocolates are handmade with the highest quality ingredients and come in a variety of flavours to suit every palate.
ABOUT ADORA HANDMADE CHOCOLATES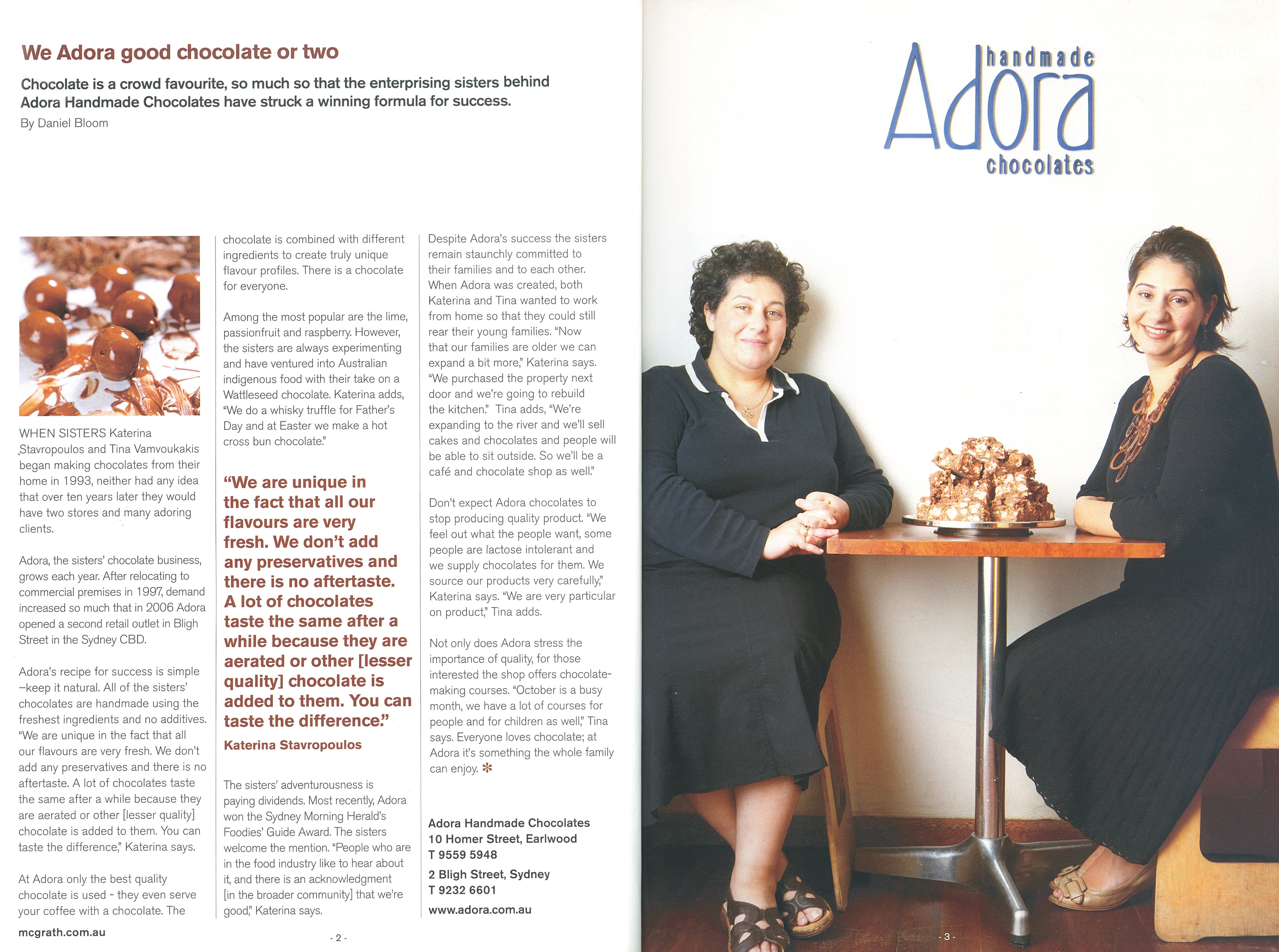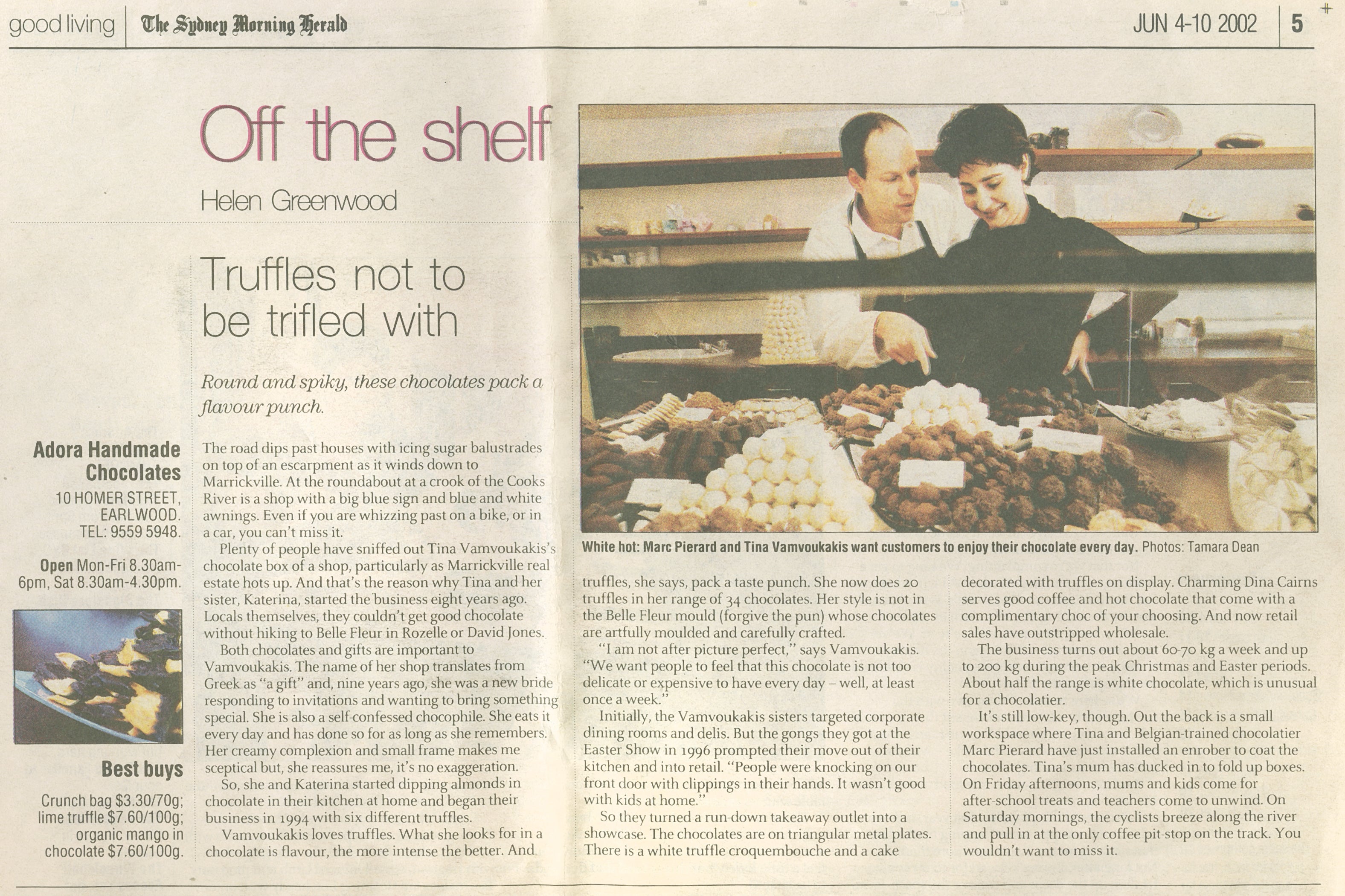 Whether you're looking for a creamy milk chocolate or a rich dark chocolate, Adora has the perfect chocolate for you.
And if you're looking for something truly unique, Adora also offers a variety of flavoured chocolates, featuring delicious Australian fruits and nuts. You may like candied orange slices covered in dark chocolate or Victorian strawberries coated in lush milk chocolate. Of course, there are the classic, best sellers like raspberry, vanilla and mint. Or maybe a taste of truffle or ginger takes your fancy.
We even offer low gluten varieties.
The hallmark of all Adora handmade chocolates is their fresh, vibrant flavour and natural, rustic look.
Whatever your preference, Adora has the perfect chocolate for you.
We don't use fancy moulds and overzealous decorations as the focus is on the quality of the chocolate and not on the frills.
Adora handmade chocolates are also the perfect gift for any chocolate lover.
Now in biodegradable packaging, giving an 'Adora' (meaning gift in Greek) is as delicious as it is environmentally friendly.
With eight unique outlets across Sydney for you to visit and a hand-crafted chocolate-making hub in the inner west, Adora has become a Sydney institution.
And don't forget, you can order chocolate online or pick up instore.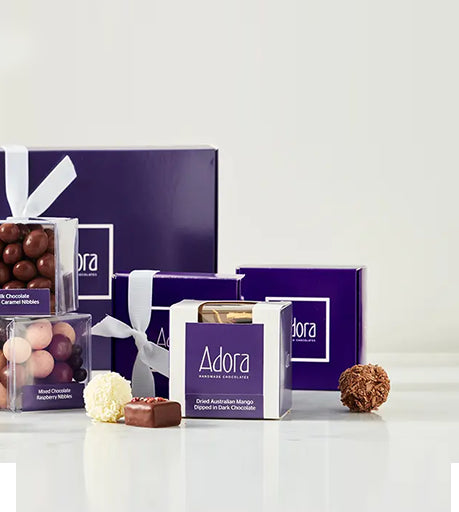 Join The Adora Family & Receive A Gift Box Delivered Quarterly Featuring $150 Worth of Products Per Box.
PLUS, You Will Also Receive A 15% Discount On Every Purchase You Make*
FIND OUT MORE
FOLLOW US ON

@adorahandmadechocolates